Israeli insurtech startup Parametrix, which has developed a solution helping companies to quickly recover from downtime events in their cloud systems and other third party services, has announced four new hirings to its executive team.
Liran Bouskila has been named as CFO, Jed Alpert as CMO, Sharon Haran as VP Europe, and Daniel Benjamin as VP Insurance. This series of appointments comes on the heels of a successful $17.5 million investment round, and in lieu of the growing demand amongst companies around the world for a solution that provides rapid recovery from third party system and service downtime events.
Bouskila previously served as Nice's VP Finance and Sales and Undertone's VP Finance. Alpert previously worked at Parametrix's U.S. offices in New York and comes with over 20 years of marketing experience with a wide range of companies. In his last position prior to joining Parametrix, Aplert served as VP Marketing for Israeli company Riskified, which recently went public. Haran comes to Parametrix with decades of hi-tech experience, including having served as CEO of PassportCard. Benjamin joined Parametrix in its infancy, and has previously served as head of pricing – individual insurance, and of Europe, the Middle East, and Africa, with insurance company AIG.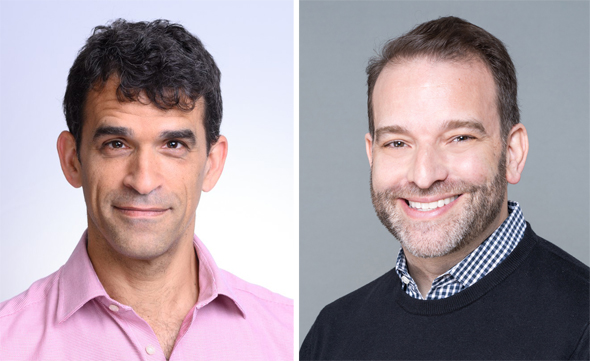 New Parametrix hires Jed Alpert (right) and Daniel Benjamin. Photo: David Garb
"Owing to our technology, and our novel solution, considered to be a break-through solution in the field, we continue to add high quality talent to join us in pursuing our vision," said Yoni Hazor, Parametrix CEO and Co-Founder: "We go to great lengths to recruit the best quality, and the most professional people in their respective fields. Our mindset is that our employees are partners to building up and developing the company. As such, we seek out ambitious and creative people to come and join the Parametrix family."